Hollywood loves a disaster movie. As the world has evolved, the threat of a global disease outbreak has become all the more real. So, Hollywood has taken to creating disaster movies about the worst-case scenario in regards to disease outbreak as the 21st century's biggest monster to fight in real-world stories.
As the world's nations rally to defeat coronavirus film fans have started watching movies to help work through this global issue. Contagion has resurfaced on the iTunes movie chart as one of the most purchased films in recent days. We have made a list of five films about outbreaks and diseases that are popular on their own, but now may be viewed a little differently as the world waits out this current crisis. Experts have offered that you should stay at home as much as possible, so it is time to start watching movies. (Hopefully, these movies will bring you a good distraction and not cause too much anxiety!)
Outbreak (1995)
Synopsis: A dangerous airborne virus threatens civilization in this tense thriller. After an African monkey carrying a lethal virus is smuggled into the U.S., an outbreak occurs in a California town. To control the spread of the disease, a team of doctors is brought in that includes a contagious disease expert (Dustin Hoffman) and his ex-wife (Rene Russo). Once the Army intervenes to handle the situation, though, the doctors must fight against the clock to save the town and its residents.
Available On: Netflix
Contagion (2011)
Synopsis: When Beth Emhoff (Gwyneth Paltrow) returns to Minnesota from a Hong Kong business trip, she attributes the malaise she feels to jet lag. However, two days later, Beth is dead, and doctors tell her shocked husband (Matt Damon) that they have no idea what killed her. Soon, many others start to exhibit the same symptoms, and a global pandemic explodes. Doctors try to contain the lethal microbe, but society begins to collapse as a blogger (Jude Law) fans the flames of paranoia.
Available On: Hulu
28 Days Later (2002)
Synopsis: A group of misguided animal rights activists free a caged chimp infected with the "Rage" virus from a medical research lab. When London bike courier Jim (Cillian Murphy) wakes up from a coma a month after, he finds his city all but deserted. On the run from the zombie-like victims of the Rage, Jim stumbles upon a group of survivors, including Selena (Naomie Harris) and cab driver Frank (Brendan Gleeson), and joins them on a perilous journey to what he hopes will be safety.
Available On: Hulu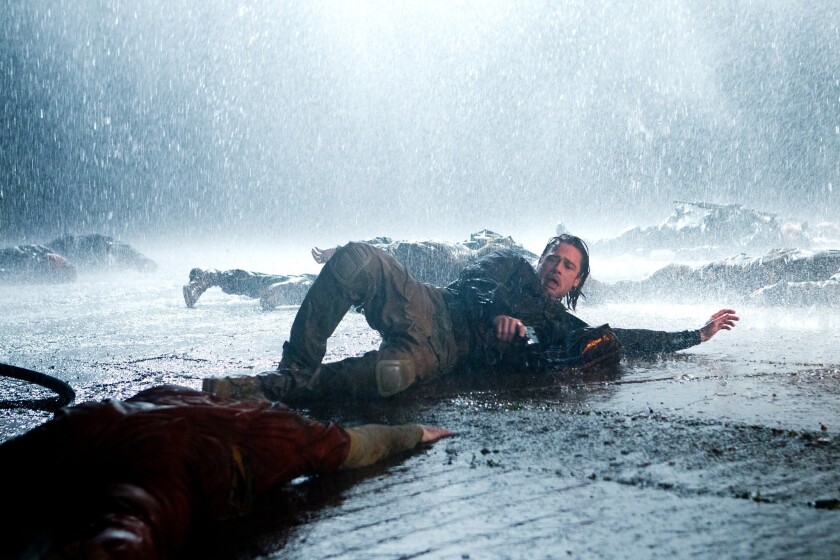 World War Z (2013)
Synopsis: When former U.N. investigator Gerry Lane (Brad Pitt) and his family get stuck in urban gridlock, he senses that it's no ordinary traffic jam. His suspicions are confirmed when, suddenly, the city erupts into chaos. A lethal virus, spread through a single bite, is turning healthy people into something vicious, unthinking and feral. As the pandemic threatens to consume humanity, Gerry leads a worldwide search to find the source of the infection and, with luck, a way to halt its spread.
Available On: Rent or Buy Amazon
I Am Legend (2007)
Synopsis: Robert Neville (Will Smith), a brilliant scientist, is a survivor of a man-made plague that transforms humans into bloodthirsty mutants. He wanders alone through New York City, calling out for other possible survivors, and works on finding a cure for the plague using his own immune blood. Neville knows he is badly outnumbered and the odds are against him, and all the while, the infected wait for him to make a mistake that will deliver Neville into their hands.
Available On: Rent or Buy Amazon
---
RELATED: 5 South Korean Films to Watch if you Loved Parasite
---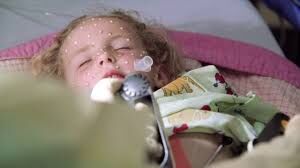 BONUS: ER – Lockdown & Chaos Theory
(Season 8, Episode 22 & Season 9, Episode 1)
Lockdown Synopsis: The ER is placed under quarantine after ominous symptoms prompt doctors to fear the outbreak of a deadly disease, and Drs Pratt and Chen try to save the life of Stan the Can.
Chaos Theory Synopsis: Carter, Abby and other hospital personnel are quarantined as the Centres for Disease Control and Prevention probe a mysterious and deadly outbreak, and Dr Corday tries to adapt to her medical practice in England.
Available On: Hulu
Know of another outbreak movie? Share in the comments.